Resident producer Lolly Lewis studied voice, composition, and electronic music at UC Santa Cruz. While still in college, she was recruited for the faculty of the Aspen Music Festival's Audio/Recording Institute, and she was Director of Recordings at the San Francisco Conservatory of Music from 1981 – 1993.
In 1984 Lolly coordinated audio playback of her recording of John Adams' Light Over Water for its premiere performance in Los Angeles (Museum of Contemporary Art) and New York (Next Wave Festival, Brooklyn Academy of Music). In 1989 she toured with the Kronos Quartet providing live playback of the recorded portion of Steve Reich's Different Trains.
In 1998 she toured with Chanticleer as production and stage manager. Producing projects include the opera Tania (by composer Anthony Davis and based on the story of Patty Hearst), a premiere recording of orchestral music by Harlem Renaissance composer Florence Price, and a program of new chamber music works by composer Mario Davidovsky. She recorded all 68 of Haydn's string quartets with San Francisco's New Esterházy Quartet in live performance and continues to produce their studio recordings, most recently Schubert's G Major String Quartet. Lolly is strongly interested in music of the classical period played on period instruments and is currently producing the entire Beethoven violin sonatas cycle with violinist Jeralyn Jorgensen and pianist Cullan Bryant, performed on antique instruments (including several pianos from the Fredericks Collection in Ashburnham, MA).
As a member of the San Francisco Symphony Chorus, Lolly sang on numerous recordings including their 1995 Grammy-winning Brahms Requiem. She is a vigorous advocate for amateur music-making: after running a five year mentorship project for the San Francisco Symphony, COMMUNITY OF MUSIC MAKERS, she founded the AMATEUR MUSIC NETWORK to support the music community with web resources and workshops.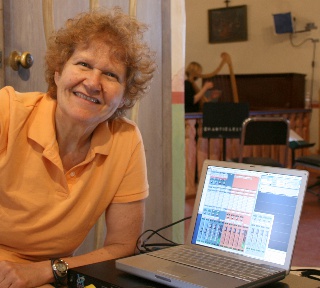 Check out out Lolly's interview on the Working Class Audio podcast 

Read an interview in